Departed Teachers A-K
The following items were transposed from the PHHS64 Web Site, although some photographs were obtained from the PHHS65 Rambler. The obituary items were composed by Randy Milliken, whom we thank. A couple of them are newspaper obituary items. This is the first half (A-K) of In Memoriam comments for Departed Teachers. We do not have information on all of them, but many PHHS65 students will surely remember those below and be interested in their histories.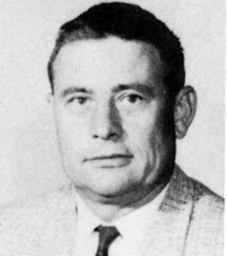 John Leroy Aaland, 1920-2007. Mr Aaland was born and raised on a farm in South Dakota and stayed on the family farm until he joined the Navy in 1941. After he was discharged in 1946, he attended College of the Pacific and married. He lived in Modesto and taught at Turlock HS from 1953 through 1959. During that time he completed an M.A. at COP, writing a thesis on the Hungarian Uprising of 1956. He came to PHHS in 1959-60 as the counselor for 9th graders. By the next year he was teaching social sciences. After retirement he and wife Betty lived in Pleasant Hill, then Concord, and finally in Walnut Creek. His residence at time of death in 2007, however, was in Santa Rosa.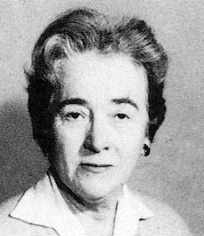 Blanche Marie (McLaughlin) Allen, 1901-1981. Mrs. Allen was the second child of Grant and Celina McLaughlin. She was raised in Vallejo; her father was a clerk at the Navy Yard. She graduated from Cal in 1923, married Leslie Allen (a patternmaker in the steel industry) in about 1927, and was listed as a teacher at Pittsburg HS in a 1931 city directory. Her single child, Joan, was born in Pittsburg in 1935. By the 1940 census the family was in Oakland, Mrs. Allen a housewife. They moved to their long time home on Moraga Blvd in Lafayette by 1944. Her husband passed away in 1957. We do not know when Mrs. Allen returned to teaching after child-raising, nor when she finally retired. She passed away in Contra Costa county in 1981.
Janice A. Beanston May 15, 1926 - Nov 1, 2021
Resident of Martinez
Janice A. Beanston passed peacefully in her sleep on November 1st. She was 95 years old. She was born in Oakland, CA in 1926 to George Beanston Jr. and Helen (Inglis) Beanston. While still an infant the Beanston family, including older brother Donald moved to the Sunset District of San Francisco. She attended the neighborhood school Jefferson Elementary and then went to Lowell High School, graduating in 1944. The next two years were spent at then named San Francisco Junior College Her next stop was UC Berkeley where she graduated in 1948 with a Bachelor of Arts degree with a major in Physical Education.
Jan started her 34 year teaching career at Sutter Creek Union High School teaching girls Physical Education. Three years later she started teaching at Mt Diablo High School, knowing that in September 1953, Pleasant Hill High School would open and she would be Girls P.E. teacher and head of that department. While at PHHS she taught P.E., 9th grade Social Studies and a Leadership class for which she was also the advisor. She enrolled in the Masters Program at San Francisco State, graduating in 1960 with a Master of Arts, qualifying her to be a full time counselor. She continued as a counselor until the school was closed in 1980 NOTE: She was on staff when PHHS opened and still on staff when it closed. After the closure she spent two years as counselor at Ygnacio Valley High School. She retired from education in 1982.
Jan enjoyed her retirement, reading, puttering in her yard, some golf, and doing crossword and jigsaw puzzles. She followed the SF Giants, the Warriors and UC Berkeley Women's Basketball. (Go Bears!) She took regular trips to Reno and Lake Whatcom in WA state.
She is now resting next to her parents at Woodlawn Memorial Park, Colma, CA.
Her written instructions were followed. NO funeral. NO services, NO gatherings.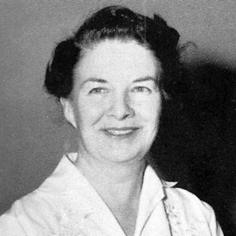 Marian H. Beeton, 1914-2009. Mrs. Beeton was born in Corte Madera, California. Her family were San Franciscans who relocated to Marin County after the 1906 San Francisco earthquake. She served as Registrar and secretary in the Counseling Office from PHHS opening in 1954 until closing in 1980. She had two children who are PHHS graduates, Bob (Class of '64) and Carole (Class of '58). She resided in Walnut Creek (Rossmoor) at the time of her death.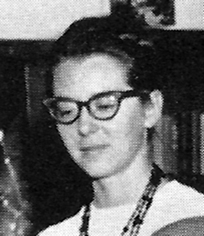 Bianca Noruega Bird, 1938-1984. Mrs. Bird was born Bianca Holme in Oklahoma in 1938. Her father was a Norwegian immigrant, her mother a native of Kansas and graduate of Kansas State College in Music. Bianca was their first child; she had one younger sister, Ora, born in California in late 1939. The family was recorded in San Francisco in the 1940 census. She entered U.C. Berkeley in 1957, and is pictured as a senior and member of the French Club in the 1960 Blue and Gold. She married Malcolm Bird in December of 1961. Mrs. Bird arrived at PHHS in the fall of 1962 to teach French. We do not track her beyond 1964, at which time she still taught at PHHS. Her death in October of 1984 is reported in California Deaths.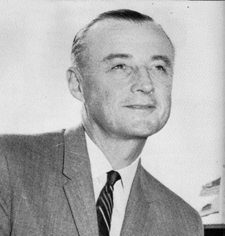 Arthur Curtis Bloom, 1910-1966. Mr. Bloom was born in Los Angeles, California. In 1920 Arthur, his older sister, and parents lived in Oakland near Mosswood Park; his father was a laundry superintendant (US 1920 census). He attended the University of California, where in 1936 he was a senior and member of the varsity baseball team. He pitched in the minor leagues from 1937-1939, starting in the Yankees organization in the southeast and ending with Spokane in the Western International League. During WWII Mr. Bloom was a naval officer in the Pacific, leaving active duty as a commander. He married Coral Carter at an unknown time. Their first child Sherryl was born while they were in Sacramento in 1947. Mr. Bloom taught at Chico High School in 1948. Second child Roger was born in Riveside County in 1950. Mr. Bloom was the first principal of PHHS and formed its first staff for the 1953-54 school year, a staff that eventually included many Navy veterans and other veterans. According to John Shumway, Mr. Bloom said, "I only hired teachers who were smarter than me." Mr. Dove remembers, "He ran the school like a naval vessel." Mr. Bloom died of a brain tumor at age 55 and is buried in Golden Gate National Cemetery.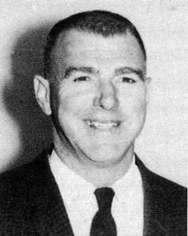 Harold C. "Red" Briggs, 1921-1994. Mr. Briggs was born in Rhode Island, the second of four children of a hydraulic engineer native to the state and a mother who was an émigré from France. Moving to Colorado in the early 1930s, the family was in Grande Mesa by 1940, his father a U.S. government mining engineer. During WWII Mr. Briggs was in the Navy Shore Patrol, at least part of the time in San Diego. After the war he went to the University of Colorado, where he played football. By 1949, his senior year, he was married to spouse Lorraine (Boulder City Directory). He obtained an MA at Colorado State after that. Hired at PHHS as head varsity football coach, he remained in that position until the late 1970s when he resigned due to frustration with program cut backs. He remained, however, as a PE teacher until PHHS closed in 1980, and retired from the MDUSD in the early 1980s. Long time PH residents, he and Lorraine had a second home at Pajaro Dunes to which they retired. Mr. Briggs died in Santa Cruz County on 9 Feb. 1994.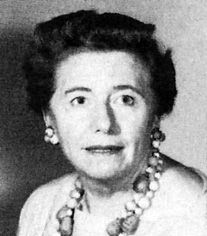 Ethel Newton Cox, 1912-1994. Mrs. Cox was born in Highland Falls, New York. Her father was a construction engineer who worked internationally. By 1930 the family lived in Albany, California and by 1934 she is listed in a city directory as a teacher. (Evidence of her college background has not been found). She married Emlyn Cox, an engineer, in 1937 in Berkeley. In the 1940 census they had 2 children and were living in Colfax, where he was gold mining. By 1960 they were in Glendale, where Emlyn worked for the State of California in Industrial Safety. Mrs. Cox came to PHHS in 1961 and stayed only for two school years. She was known a funny and a bit eccentric. In retirement she lived in Alamo.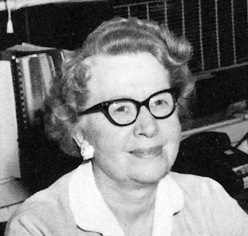 Margery Kinne Crouch, 1897-1998. Mrs. Crouch was born Margery Kinne in Knoxville, Iowa, daughter of a grocer. Her college experience is unknown. She was teaching school in Pueblo, Colorado in 1920 (census). In 1925 she was back in Knoxville, again working as a teacher, with two years of college. By 1928 she was married, living in Berkeley, California, and working as a teacher (City Directory). In a 1930 directory she was again in listed in Berkeley with spouse John M. Crouch, who appears in no subsequent records. In 1948 she became the vice-principal of the Narimasu School for Americans in Yokohama, Japan (under U.S. Army jurisdiction). By 1951 she owned a home in North Oakland, but continued to spend the school year abroad, in Yokohama and then Germany. We are not clear when she first came to PHHS as Dean of Girls, perhaps 1958 or 1959. She became Vice-Principal for the 1961-62 year. She left PHHS after the 1963 school year; we presume that she retired. In 1967, at age 70, she took passage on a freighter around the world. She died three months after a 100th birthday party attended by nieces, nephews and cousins, as well as friends from near and far.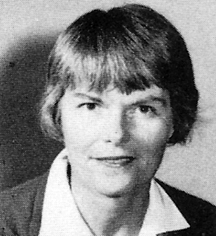 Elinor Evans, 1918-1997. We have very little information at this time on either Miss Evans' youth, or on the time of her death. She was an English student at UCLA in 1941 (as a sophomore), 1942, and 1943, the school yearbook shows. This would suggest that she was born probably in California. She taught major core at PHI in the 1958-1960 period. She moved over to PHHS to teach English in the fall of 1960. According to one former colleague, she passed away in Napa, California.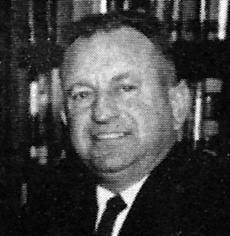 Stanley T.F. Foletta, 1917-1998. Mr. Foletta was born into a Swiss-American dairy farming family in San Ardo, Monterey County. He was still in San Ardo in 1935. By 1939, a city directory lists him in Oakland, working as a waiter and living on College Avenue. (Circumstantial evidence suggests he was also attending U.C. Berkeley.) He enlisted in the Army on 21 October, 1941, by which time he had completed his college degree. He became a staff sergeant in the Army Air Force. After the war he began teaching, first in Fresno and then at Marysville HS. Mr. Foletta married Janet McMurry in 1950. Their three children were born in Yuba county between 1952 and 1958. At PHHS Mr. Foletta had a positive influence on many lives. He and Janet eventually moved to St. Helena. He is buried at Holy Cross Cemetery in that town.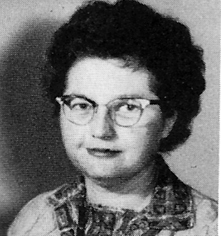 Vivian M. Fox, [1920-1995?]. We have a mixture of definite and probable information on Miss Fox. She was born in New Hampshire in approximately 1920, the oldest child of English Canadian immigrant parents. Her father was a book-keeper in Grafton, NH, as of the 1930 census. By 1940 Vivian was aged 19 and living with her parents in Columbia NH; she had completed one year of college (1940 US census). Her picture is in the 1941 yearbook of Keene Teacher's College, NH, as a junior. She received an MA from Columbia University in the late 1940s. In the early 1950s she was teaching at a high school in New Hampshire. She was already teaching English at PHHS in 1956. Her retirement date is not known. She lived many years in Moraga, CA. Other teachers have remembered that Miss Fox returned to the east, to either Massachusetts or Connecticutt, where she is believed to have passed away in 1995 (Connecticutt Deaths on-line for a Vivian Fox, social worker).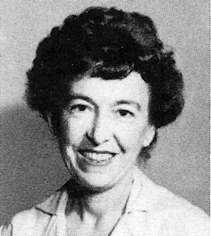 Elizabeth C. French, abt 1910-2002. We have a mixture of definite and probable information on Mrs. French. She is almost certainly the Elizabeth Drury, daughter of Harry and Bessie Drury, noted in the 1920 census in Oakland, CA. She married Kendrick French in 1935 in Walnut Creek. In the 1940 census the couple are shown with four year college degrees, but both working low paying jobs. Their twin daughers were one (both born 9 sep 1938). Mrs. French, if we have indeed identified the correct one, passed away in Walnut Creek in December of 2002.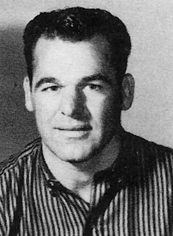 George Galli, 1928-1990. Mr. Galli was the 7th and last child born to Giulio Galli, a steel worker, and Crystal Lobolita, in an Ohio suburb of Wheeling, West Virginia. The family moved west to Pittsburg, CA, in 1932, where the older sons worked for Columbia Steel. George played football at Pittsburg HS and later enlisted in the Navy, where he was runner-up one year in the All-Navy wrestling championships. He entered Contra Costa College in 1952, then moved on to USC, where he lettered in football for three years as a left guard (1953-55). He came to PH in 1957 as a PE coach, assistant football coach, and wrestling coach. That year he married Doris Thomas. His PHHS wrestling teams were Northern California champions in 1960 and 1961 (there was no state meet). In 1962 he became head football coach at Miramonte HS. He moved on to Utah State as a line coach in 1965, became head football coach at St. Mary's college in 1969, and moved back to high school coaching at Pittsburg HS in 1971. It is not know to us if he had time to retire before his death in 1990.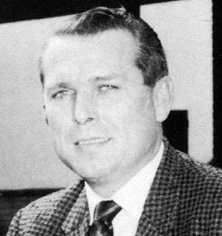 Willis C. Goins, 1925-1993. Mr. Goins was born in Weed, Siskiyou county. In 1930 his father was a driver for a wholesale oil distributer. The family moved to St. Helena after 1832, and was in Chico at the time of the 1940 census. Mr. Goins joined the Army as a private in April of 1943. After the war he entered Chico State and obtained an A.B. in Psychology. Mr. Goins was one of the initial members of the social science department at PHHS in the mid-1950s. By 1958 he was head of the counseling department. He moved into one of two vice-principal positions in the fall of 1961. In 1968 he left PHHS to become the first principal at new Concord HS. He was still there in 1974. We do not know when or where he retired. By the 1990s he lived in Gualala along the north coast. Gualala was his last residence in social security records, but he passed away in Contra Costa county.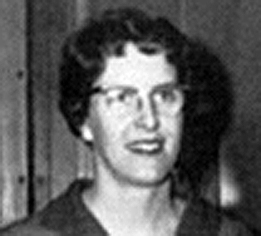 Helen Kathleen (Hubert) Gray, 1929-2000. Mrs. Gray was born in Salida, Colorado, the third and last child of a wholesale oil products distributor. She grew up in Montrose, Colorado and went to college at the University of Colorado, Boulder, where she earned a degree in Music in 1951 (according to school yearbook). It is not known to us where and when she met and married Winston Gray. She joined the Music faculty at PHHS after 1958. Their twin daughters were born in August of 1961. Mrs. Grey returned to the staff, but left PHHS after 1962. Long separated from Mr. Gray, her last known California address in the 1990s was in Alamo, California. Mrs. Grey never divorced Mr. Gray. She died in her home town of Montrose, Colorado on March 30, 2000 and is buried in the town's Cedar Cemetery.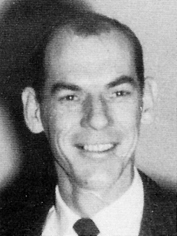 Winston Grant Gray, 1931-2013. Mr. Gray went to school at Delta State Teachers College in his home state of Mississippi, then to San Francisco State College. He married Helen Hubert, who became fellow PHHS teacher Helen Gray. Their twin daughters were born in August of 1961. The Grays did not stay together, but never divorced. Eventually Mr. Gray left PHHS to teach at SF State. Upon retirement, he lived in New Orleans for the last 25 years of his life and became something of an institution on Bourbon Street. He had his "last" picture taken every three years at the same studio. This one was taken about seven years before he died in 2013.

Sherri Levesque Park communicated with Mr. Gray through Facebook. She notes that he still has family there and they still post to his Facebook. Here is a link to his page:
https://www.facebook.com/winston.gray.5?fref=ts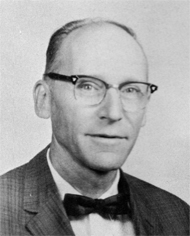 Clarence M. Haymaker, 1915-1967. Mr. Haymaker was born in Howeville, a mining town in Gunnison County, Colorado, the only child of a quartz miner. By 1940 his mother had died and his father and Clarence were living the larger town of Gunnison. Mr. Haymaker enlisted in the Army in Denver as a private in August 1943. After the war he entered (or returned to) Western State College in Gunnison, where he was a member of the Chemical Society; he graduated in 1948. At PHHS, the other science teachers often sought his advice regarding their lesson plans (Joe Hipple told his sons). Mr. Haymaker died in Contra Costa county on Feb. 12, 1967. He is buried in the family plot in Gunnison, Colorado.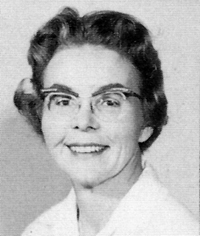 Elinor Edith Herod, 1914-1995. Born Elinor Thomson in North Bergan, New Jersey, Mrs. Herod was the oldest daughter of a linen's buyer for Macy's. The family moved out to Piedmont, California before 1930. Elinor graduated from Mills College in the mid-1930s and went east to teach at Carlton College in Minnesota. During WWII she met Blaker Herod. Married in 1943, they settled in Oakland and had four children beteween 1945 and 1949. They soon moved to Pleasant Hill, where their children went to Oak Park School. Mrs. Herod was a counselor and taught social studies and PE at PHHS over 1960-1962. Daughters Lin and Leslie were at PHHS then. The next year they moved to Souderton, PA, where she taught in the high school for another 13 years. In 1976 she and Blaker retired to Mendocino, CA, where she remained active for the rest of her life. She founded the local Mendocino library and served as President of the Mills College alumni association.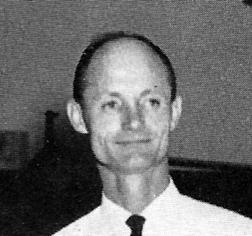 Joe Hipple, 1924-2013. Born in 1924 in Waterman, IL, Joe became the man of the family at age 5 when his father died. Joe excelled in wrestling and track in high school and later at the University of Arizona in Tucson. He left college to serve in the Army during World War II, entering Normandy 5 days after D-day. Returning to Tucson, he finished his BS in 1949. He went on to grad school at UC Berkeley. He and wife Jane married in 1951. After receiving his Master's degree at UC Berkeley in 1953, Joe taught in Berkeley in the mid-1950s. Upon moving to PHHS, Joe built the house in the Lafayette portion of the Pleasant Hill area where their two sons grew up. Mr. Hipple taught science courses at PHHS until it was closed in 1980, plus coaching wrestling and track. He was active with AFS, Boy Scouts, and the Sister City program. Retiring from the MDUSD in 1983, he moved to Nevada City and taught as a substitute at Nevada Union High School for 10 years. More recently he lived near a son in Livermore, where he volunteered teaching immigrants English as a 2nd language. Colleagues and former students attended Mr. Hipple's December 2013 memorial at Hillcrest Congregational Church.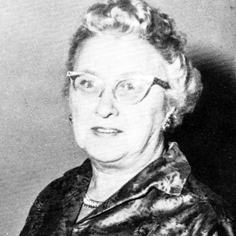 Adele Walker Hodge, 1898-1993. Mrs. Hodge was born Adele Walker in San Francisco in December of 1898. Her father was a crane operator in a shipyard. By the 1920 census, Adele was working as secretary in a public school. She married Harold E. Hodge, a lumber yard manaer, some time in the 1930s. They had no children. Mr. Hodge died in 1949. Mrs. Hodge was the Attendance Secretary at PHHS at least as early as 1955 (see 1955-56 Rambler) and remained in that position through our years. One can guess that she retired soon after 1964. She lived in Pleasant Hill at the time of her death 1993, but when she moved there is not known to us.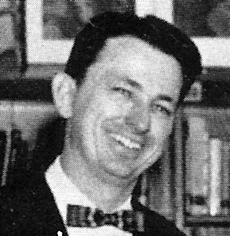 Ray Albert Jackson, 1925-1990. Mr. Jackson was born in Santa Ana, CA, the third of four sons. The family was in Seattle in the 1930 census. By the 1940 census, Ray lived with his mother and younger brother in Lake County. He served in the Navy in WWII. Upon discharge he went to college at San Jose State, where he graduated with an Industrial Arts degree in 1950. Mr. Jackson was the first wood shop teacher in the early years of PHHS. He later became a counselor, the role in which we knew him in the 1960s. Mr. Jackson is survived by his wife, Jan, and two daughters. His residence at death was Walnut Creek.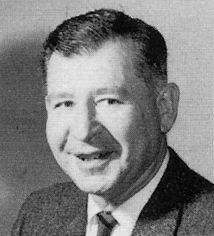 John G. Kaputof, 1909-1981. Mr. Kaputof was born in Black Diamond, King County, Washington, the only child of immigrant parents from Austro-Hungary. His er Mike was a barber. Mr. Kaputof's early 20s are undocumented. He entered Oregon State College in Eugene in his late 20s, graduating in Education in 1939. He began teaching in Umatilla county, Oregon that fall. He is listed in the Pendleton, Oregon, City Directory of 1941 as a teacher in the town high school. He served in the Army from Feb 1942 to Oct 1945. In 1946 he married Frances Coffey in Benton County, Oregon and returned to teaching in Pendleton. It would be interesting to know how Mr. Kaputof was recruited to PHHS. He passed away in January 1981, his last residence Concord.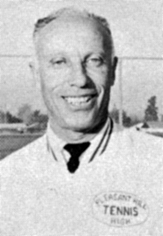 Isaac John Katz, 1913-1999. Mr. Katz was born in Russia, according to 1930 and 1940 censuses. The 1930 census lists his father as a junk dealer in Portland, Oregon and his older brothers working for clothiers. His senior picture at Lincoln HS in Portland states that he arrived from Mexico City in 1929, he was in the Spanish Club, and he planned to attend Reed College. By the early 1940s he was out of college and teaching Spanish at Clinton HS in Portland. At an unknown point he moved to Vallejo, California. He had a passion for tennis and eventually became an official with the United States Tennis Association. Mr. Katz came to PHHS in 1963-64 as a Spanish teacher and tennis coach; he was still there in 1974 (Dave Grandin, personal information). Where and when he retired from teaching is not known to us. Mr. Katz was single until he married June Regli late in life. He died in Vallejo in 1999 and is interred at Tulocay Mausoleum in Napa.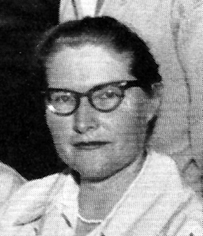 Gladys Evelin Kyne, 1916-1994. Miss Kyne was born and raised in San Francisco. Her father was a plumber. She graduated from Lowell HS in June of 1933. She went on to the University of California, where she graduated in 1938. She was at PHHS at least as early as 1955-56. No details are available regarding her teaching career before then or after our era. Miss Kyne lived most of her adult life in Kensington, and died there in 1994.