In Memory
Joycelyn Davis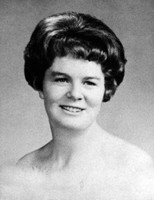 Joyce's family echoes her wonderful sense of humor with this obituary quoted from the website tulocaycemetary.org
"Joycelyn Davis was born on October 21, 1947 as the rightful heir of the Crazy Foo Ninja Clan. She grew up in the California Bay Area and then spent time wrestling sharks in Uganda which helped her later in life with her job with at-risk children. She sure loved those sharks. She got her Bachelor's Degree from Sac State in Psychology and ironically, all of her kids are slightly nutty.

Joyce had a great sense of humor and often laughed at inappropriate things like when people didn't mind the gap at the subway and fell. She has probably got heaven laughing now - assuming she made it that far. (Cross your fingers).

She is survived by her children Kale (Dawn) Dabling of Channing, Texas (who was obviously the favorite), Jenelle Crump of West Jordan, Utah (the typical middle child AND a redhead who surprisingly was allowed to live past the age of 16), and Tiffany Dabling (.) of Napa; Grandchildren: Ash Dabling, Jacob, Melina, and Alexandria Crump, and Adriana Dabling who are all the more awesome because of their grandmother; Siblings: Ted (Colleen) Davis of Sandy, Utah, Daphne (Tierry) Budge of Orem, Utah, and Rita Heagren of West Jordan, Utah, all of whom worshipped Joyce as a goddess of the sharks.

Services will be held Friday, October 3, 2013 at 11am at the LDS Church at 2598 Trower Ave. in Napa, California. Bring your 3D glasses.

Joyce died on September 29, 2013. Cause of death: We think Jaws got her. Da-dun."